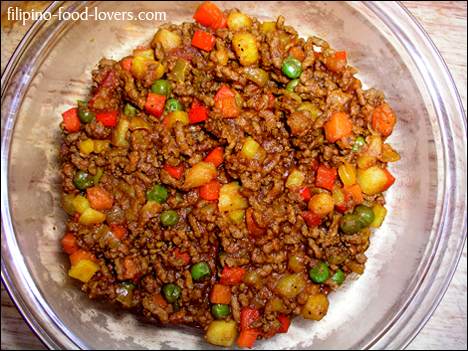 Pork Giniling (Grinded) is one of the most common ingredient in the public markets within the Philippines. There are a lot of food that can be cooked using this meat. It may also be used as additive in some of the main dish or can also be the main dish. This pinoy food recipe has been one of the most common dish since it was introduced.
PORK GINILING INGREDIENTS:
1 kilo Ground Pork
About 4 tbsp of crushed garlic
1 pc onion, diced
1 pc carrot, diced
1 pc potato, diced
1/2 cup green peas
1/2 cup chopped red bell pepper
2-3 tbsps soy sauce
salt and pepper
1 pc bay leaf
PORK GINILING PROCEDURES
Saute garlic and onion. Throw in the ground pork and sauté until brownish. Add in tomatoes, green peas, carrots, potatoes, and bay leaf. Season with salt, pepper, and soy sauce and sauté for about 2 minutes. Add in about half a cup of water, throw in the red bell pepper, and simmer until the potatoes are done.